AMRC Training Centre engineers making a difference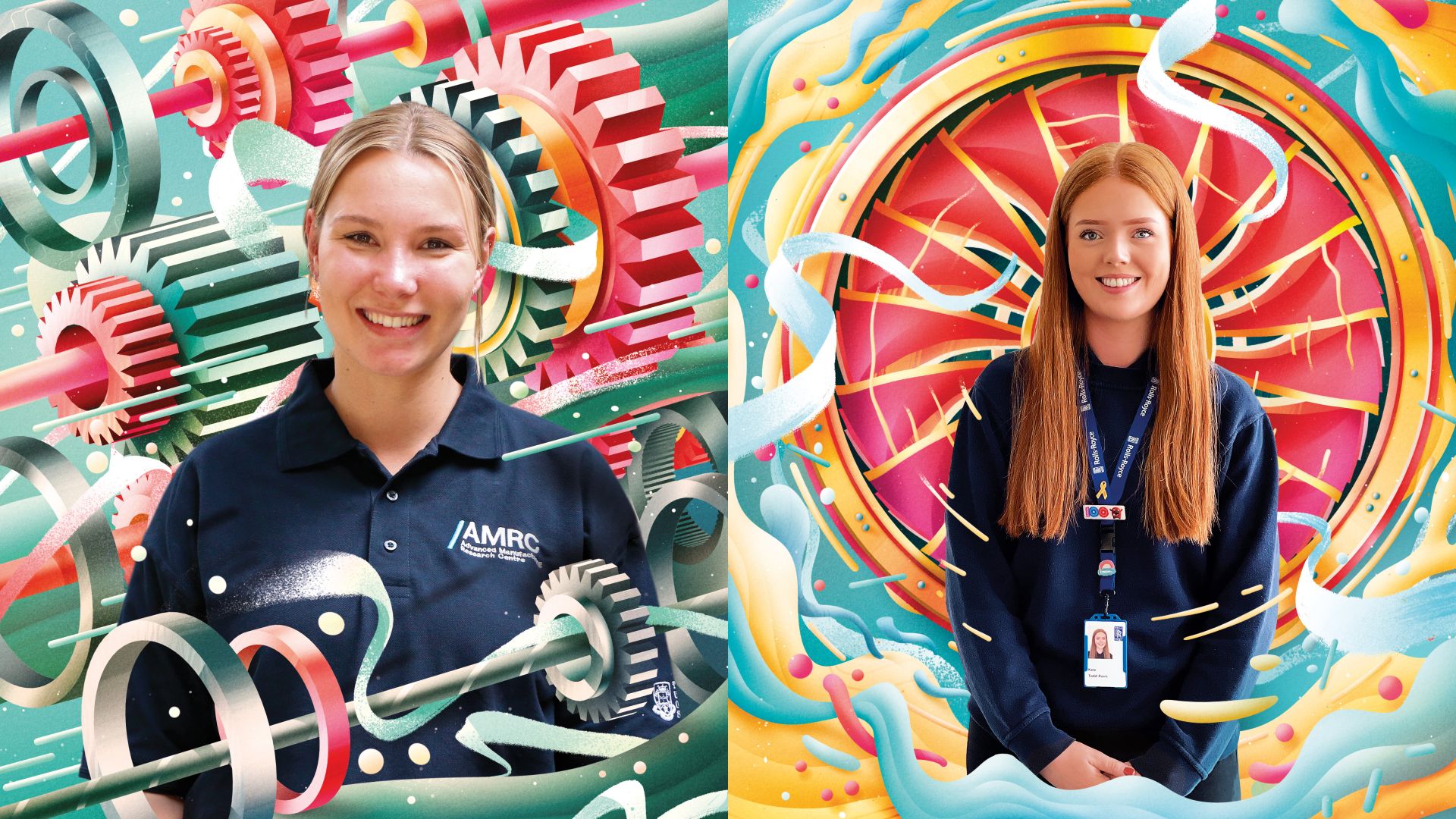 Two University of Sheffield AMRC Training Centre alumni feature in a new book that will be sent to every secondary school in the UK to inspire and excite young people about careers in engineering.
Beth Cousins, now a project engineer at the University of Sheffield Advanced Manufacturing Research Centre (AMRC) and Kate Todd-Davis, who works as a manufacturing engineer for Rolls-Royce, were hand-picked to appear in the book Engineers Making a Difference, alongside 44 other superhero engineers from sectors including construction, energy, transport, robotics and artificial intelligence and more.
The book, released just days before International Women's Day, was penned by Dr Shini Somara, a mechanical engineer who is also a mentor at Imperial College London and a media broadcaster. Her love for engineering began at childhood, spending countless hours building things and pulling them apart to see how they worked – not to mention the curiosity she developed through watching her father, who was a mechanical and electrical engineer.
"I had always been curious to understand how things work and my dad encouraged me to investigate," says Dr Somara in her introduction for the book. "He was probably the main reason why I chose to follow a science, technology, engineering and mathematics (STEM) career myself."
In the book, Beth, who works within the gears team at the AMRC, part of the High Value Manufacturing (HVM) Catapult, said that collaboration, creativity and communication are essential in her job and that she loves the team of brilliant people she works with.
She goes on to say: "Everyone has different skills and expertise, but we are all passionate about finding solutions. Doing things differently should be encouraged in manufacturing, which is why we need more young people to join the industry."
Kate, who uses a mix of old and new technologies as part of her day job, where she helps make parts for jet engines, finds her work fascinating and enjoys the hands-on approach to learning. In the book, she says: "At Rolls-Royce, the mindset is that apprentices are the future of the company, so we are always being taught new things and are given room to be creative."
Dr Somara acknowledges that not everyone has an engineering family member or hero to aspire to, but hopes that people like Beth and Kate, along with the other 44 incredible and diverse individuals in the book may do just that by showing the real difference they are making in the world.
In the book, Dr Somara writes: "I chose to interview the people in this book because many of them are working on engineering solutions that affect us all. I wanted to find out more about them, what they do every day at work and what motivates them.
"I believe that engineers are undercover superheroes, who save lives in many different ways, by building safe bridges, planes, medical equipment and much more. Engineers are crucial for a better future, as they continue to play a major part in slowing climate change."
To help bring engineering careers into the spotlight further and reaffirm that anyone from any background can consider a career in engineering, the collaborators of Engineers Making a Difference, are sending out a school kit to every state secondary school in the UK, which includes two copies of the book, a teacher's guide, 12 posters and a four-metre-long timeline wall chart.
Nikki Jones, director of the University of Sheffield AMRC Training Centre, is incredibly proud to see Beth and Kate included, adding: "To have two of our former apprentices feature alongside a variety of other amazing engineers in this book is incredible to see.
"Getting youngsters excited about a career in engineering at this key part of their school journey where decisions are starting to be made about their futures is vital, as it's here that we begin to look at the people who could be the engineers of the future. It's great to see a book being created which looks at different engineering careers from a first-person perspective."
The project is supported by the Gatsby Charitable Foundation, set up by Lord Sainsbury to give charitable funding to science, education and art projects. Collaborating on the project are Imperial College London, a global top ten university with a strong focus on STEM subjects, and What on Earth Publishing, a publisher of non-fiction books that engage the natural curiosity of young people.
The book can also be found via:
https://www.hive.co.uk/Product...