Mechatronics Maintenance Apprentice - Kirbi Taylor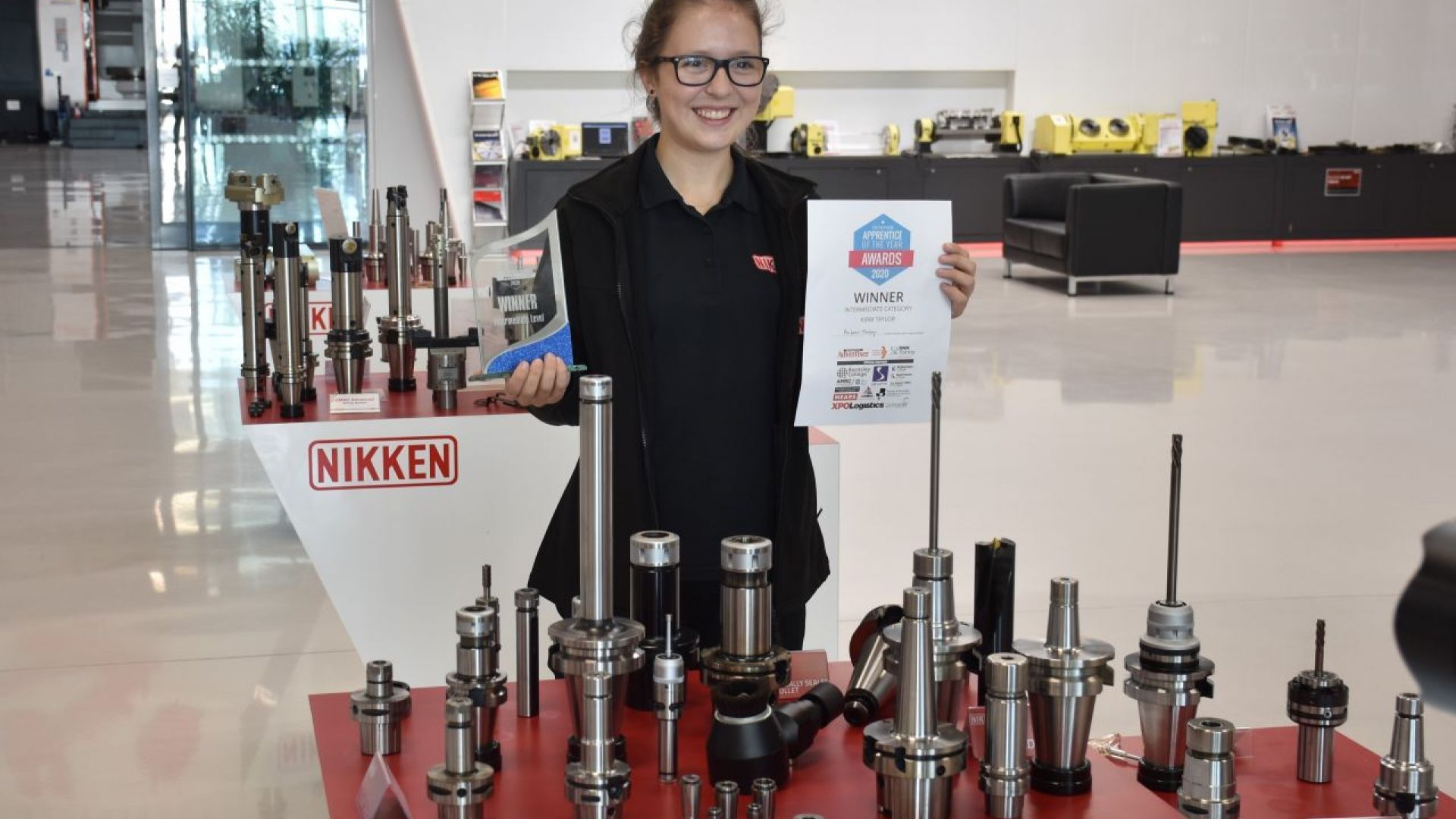 We're celebrating International Women's Day 2021. The theme this year is #ChooseToChallenge, so we're looking at some of the amazing women who work at the AMRC and AMRC Training Centre who #ChooseToChallenge engineering gender stereotypes every day.
Name: Kirbi Taylor
Job title: Mechantronics Maintenance Apprentice
Company: AMRC Training Centre apprentice at Nikken Kosakusho Europe ltd
Describe your job?
My job entails me carrying out services, refurbishments and repairs on our CNC Rotary Tables and Tooling. However at the minute, my main role is carrying out conversions on rotary tables. With these kinds of jobs, I would have to change and stamp a new name plate, alter the paperwork to make it suit the new table and run a variety of tests to ensure the table runs to original manufacturer specifications, including setting backlash compensation and grid shift values. I would also be fitting and testing internal, external or direct cables to a table as specified by the customer's needs. As part of these tests the clamp, unclamp and reference signals are checked as well as the brake – this can either be hydraulic or pneumatic. I also carry out repairs on tables and tooling. Generally, tables are completely stripped and all parts assessed for any damage. Damaged parts are then replaced, along with O-rings, seals and bearings. Multiple tests will then be carried out and adjustments made as necessary to ensure the table has been built correctly and is operating to the correct manufacturer's specifications. I also perform general servicing of tables, which involves grease and oil changes, backlash checks, adjustments if necessary and resealing of motor covers. For certain tool repairs this also involves the use of a tool presetter to check and help set the runout to ensure it is within specification.

Tell us about a typical week at work?
My typical week can see me on multiple jobs and sometimes when we are extremely busy we would have to manage two or three jobs at the same time. This is because for example if you are working on a full refurb then you will send the rotary table covers to be repainted, so once you have done all you can on that job, you get another job. So you have to make sure you are on top of your job and do not get the jobs mixed up. You need to adapt and sort of block out one job from your mind whilst you work on the other, especially if the multiple jobs you are working on are similar.
What advice would you give to someone starting out in the industry or thinking of a career in STEM (Science, Technology, Engineering and Maths)?
I would first research about the different jobs you can achieve by taking different paths so it really opens your mind to the possibilities and challenges you will face. You may decide upon researching that you do not like the sound of one job but really love the sound of another. I would also make yourself prepared for the hard work and dedication you will have to put in so you get the best results you can get at the end of your qualification so even more doors open up to you as your career adapts and progresses.
What is it like being a woman in engineering?
I am not going to sugar coat it but as a woman I have experienced a few set backs and fitting in, being the only girl in class has been challenging at times but it has all been worth it and I would do it all again because I love my job, who I work for and I love my studies at the AMRC Training Centre. The AMRC introduced me to the other girls at the centre at the time which really helped and now I have made some great friends.
What is your greatest career achievement to date?
So far my greatest achievements academically are being awarded the Rotherham Apprentice of the Year, the AMRC Training Centre First Year Apprentice of the Year Award and the AMRC Training Centre Maintenance Spotlight Award for my cohort. In company, my greatest achievement was being selected to speak to our European visitors and been given the opportunity to work in multiple departments at NIKKEN with other employees.
Why did you choose a career in STEM?
I choose a carrier in STEM because I was brought up in a very technical family and I have grown up with engineering and technology. I was fixing things in the garden with my grandad, like a lawnmower and working on various equipment in my dad's garage, so to me working in a career in STEM was second nature because I enjoyed it so much with my family that I realised I wanted to do it as my chosen career. You are working for a lot of years so it is important you work in something you enjoy.