National awards call for bright Rolls-Royce apprentice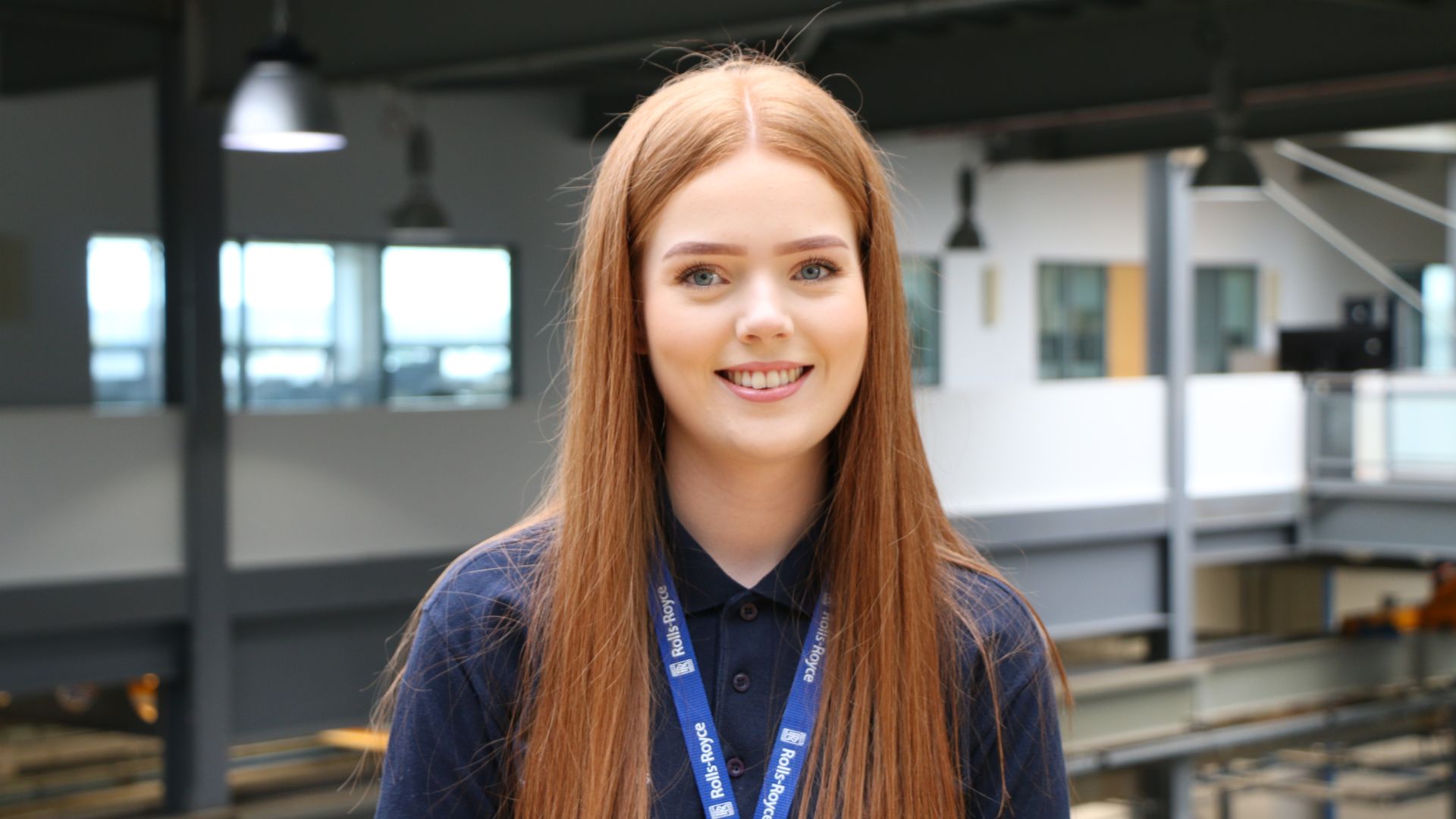 A gifted Rolls-Royce apprentice who has been studying the academic element of her apprenticeship at the University of Sheffield AMRC Training Centre has helped her company Rolls-Royce to save £180,000 a year, is a finalist at this year's National Apprenticeship Awards.

Kate Todd-Davis secured her place in the final after being named as Degree Apprentice of the Year for the North East region. She has become the fourth AMRC Training Centre apprentice in four consecutive years to reach these national finals, following on from Emma Sisman last year, Rebecca Wright in 2019 and Oliver Marsh in 2018.
The 21-year-old, who recently graduated from the training centre with a first-class honours degree in Manufacturing Technology, is also a finalist in the degree apprentice of the year category at this year's AMRC Apprentice of the Year Awards.
Kate has also completed a Level 2 NVQ in Fundamental Engineering and is now working towards a Level 4 NVQ in Engineering and Advanced Manufacturing – both delivered by the Sunderland Engineering Training Association (SETA).
"It is an honour to have been named the degree apprentice of the year for the North East and to be a finalist in the AMRC Training Centre awards," said Kate, who is employed by Rolls-Royce as an apprentice manufacturing engineer.
"I never thought I'd even be considered as a finalist for either, let alone win one. It's been really overwhelming having success in both awards, but I couldn't be happier. I think it really recognises the investment that Rolls-Royce has made into my career and validates the quality of training I have received from the AMRC Training Centre and SETA.
"It's a massive achievement for me to make the national finals and I'm really looking forward to the ceremony to hear about the other finalists and their career stories so far."
Kate joined Rolls-Royce in September 2018 and is based at the company's Washington facility – which manufactures a range of aerospace discs for in-service engines.
She's been involved with a variety of interesting challenges, adding: "My most notable achievement so far has been leading a project to reduce the number of decimal places non-conforming features are reported to, to reduce non-conformance. This calculated savings of about £180,000 per year on the seven highest running parts in the facility and formed the basis of my dissertation research.
"Another thing I'm really proud of is being a member of the Women in Science and Engineering (WISE) group at work – with the group continually supporting me and giving me the opportunity to speak with successful women in the engineering community."
Nikki Jones, Director of the AMRC Training Centre, said Kate was a worthy winner, adding: "Kate is a great example of how companies such as Rolls-Royce, can nurture creativity, skills and new ideas that apprentices like her can bring in to help drive innovation and efficiency.
"Everyone here at the AMRC Training Centre wishes Kate the very best of luck ahead of the national finals and congratulate her on the regional win."
Michelle White, Apprentice Development Leader for Rolls-Royce, added: "It is no surprise that Kate was nominated for this award as she is an outstanding apprentice and demonstrates all the knowledge, skills and behaviours which are needed.
"Kate strives to give 100 per cent at all times and when completing any task which is given to her - what she also does well is she will reflect on what she has achieved and will look at what went well and maybe what she can do differently next time.
"Well done to Kate - Rolls Royce as a company are proud and recognise this is a great achievement."
Robin Lockwood, CEO of SETA, added: "Kate is clearly a talented young engineer, who has excelled in her knowledge and skills training. Whilst SETA and AMRC have helped to steer her through her apprenticeship journey, it is Kate that has dedicated the time and effort to achieve what she has. We are delighted she has won the NE region award and wish her well in the national finals. I am confident she has a great future in engineering ahead of her."
Returning for its 18th year, the National Apprenticeship Awards highlight the benefits apprenticeships bring to individuals, businesses, and local communities, and celebrates the successes of those who have gone above and beyond to make a difference.
More than 1,000 entries from apprentice employers, apprentices, and apprenticeship champions have been received this year from all over England. The breadth of industries and sectors recognised highlights the broad appeal of apprenticeships, and how employers and individuals are continuing to build business and career success through apprenticeships.
Following the announcement of the regional winners, Alex Burghart, Minister for Skills, said: "I'm a major believer in what apprenticeships can do for employers, the economy, and the apprentices themselves.
"Apprenticeships are incubators of greatness. These nominees are showing just how much potential apprenticeships have to offer opportunities and skills on the job. Good luck to everyone involved."
The national finals are set to take place on Wednesday, December 1.