Triple win at South Yorkshire Apprentice Awards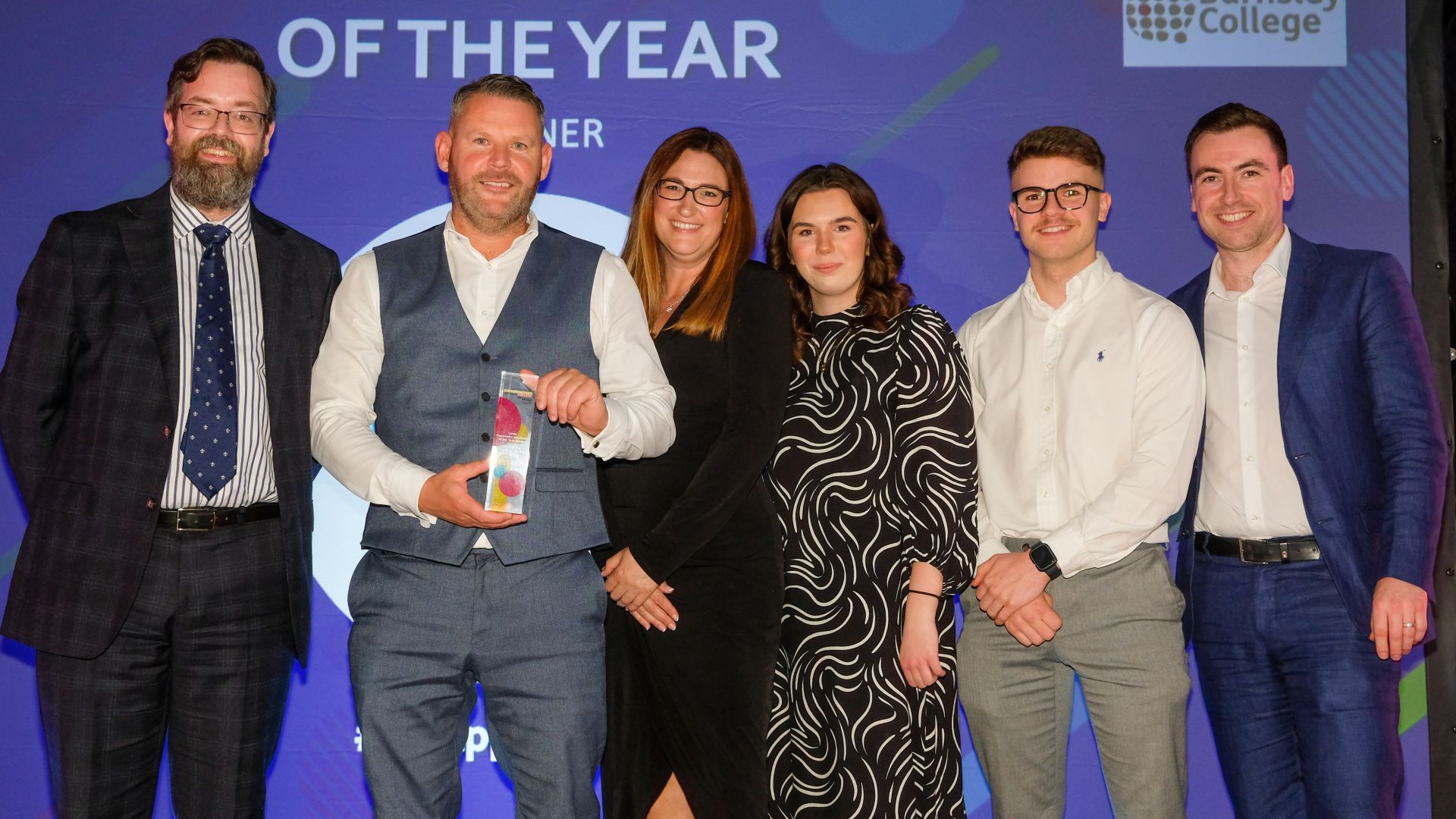 Top accolades were scooped up by two apprentices from the University of Sheffield AMRC Training Centre and an employer it works with at this year's South Yorkshire Apprentice Awards.
Apprentices Joseph Woodhead and Joe Burns won gongs at the awards ceremony, alongside employer ITM Power.
The annual awards, now in its sixth year, recognise the incredible apprenticeship network across the South Yorkshire region. Spanning across 14 categories, the night was hosted by British multimedia company National World at Magna Science Adventure Centre in Rotherham earlier this month.
ITM Power picked up two top wins on the night. Apprentice Joseph Woodhead is a junior automation engineer for the green technology company, which has its headquarters in Sheffield and has worked there for almost three years. He won Engineering/Manufacturing Apprentice of the Year.
The 20-year-old, who is working towards his Level 6 Manufacturing Technology Degree at the AMRC Training Centre, said the award win was a total shock, adding: "It feels great to even be nominated for an award, so to win one feels very surreal. South Yorkshire is an area with so many apprenticeship opportunities and employers, so I was up against some great competition.
"I have been really lucky with the great support received from the ITM academy and AMRC Training Centre who helped me through my apprenticeship journey. To show them I have used the opportunities they have given me and to win this award means a lot. I wouldn't be in the position I am without them, so it really reminded me how lucky I am."
ITM Power bagged the Large Business Employer of the Year award. Lee Firth, academy manager, said he felt extremely proud that the company received this accolade.
"Over the past 12 months we have really utilised apprenticeships to support the development and growth of the business," Lee said. "We have some amazing talent working through various apprenticeship standards and for Joseph to also win the Manufacturing Apprentice of the Year is a real testament to this."
Joe Burns is a trainee design engineer for Sheffield-based sensing technology experts, Tribosonics and was awarded the Higher Apprentice of the Year award. The 23-year-old is working towards his Level 4 HNC Engineering Manufacturing Technician apprenticeship at the AMRC Training Centre and hopes to move onto a degree programme later this year.
Speaking about his win, Joe said: "It is a great feeling to have won the Higher Apprentice of the Year as it validates all the hard work I have put in over the past three years. "I am thankful to the AMRC Training Centre and Tribosonics for the help and support they have given me to turn me into the engineer I am today.
"Winning the award is a personal highlight for me and I look forward to any further achievements the future holds."
Mark Wallace, Chief Operating Officer at Tribosonics was full of praise for Joe, adding: "Joe was part of our very first cohort of apprentices in 2016, which paved the way for our future leader development scheme. Now a third of our businesses are apprentices, or 'future leaders' as we call them. Joe continues to be a role model for the many apprentices who are following in his footsteps.
"We are so proud of all he has achieved so far in a variety of roles and responsibilities, growing in confidence and expertise, all while studying and advancing his knowledge."
Nikki Jones, director of the AMRC Training Centre, was thrilled to hear about the three award wins. "To see not only two of our apprentices, but one of our highly-respected employers recognised at this year's South Yorkshire Apprentice Award was fantastic.
"Our apprentices work very hard day-in and day-out and for both Joseph and Joe to be recognised out of a pack of other strong contenders from across the region is real proof of their work ethic and dedication to bettering their futures.
"ITM Power is one of many of our close-knit employers we work alongside at the AMRC Training Centre and it's always great to see such a company do so well and be acknowledged in an awards ceremony such as this one. A huge well done to all of this year's winners."