Awards triumph for AMRC Training Centre apprentice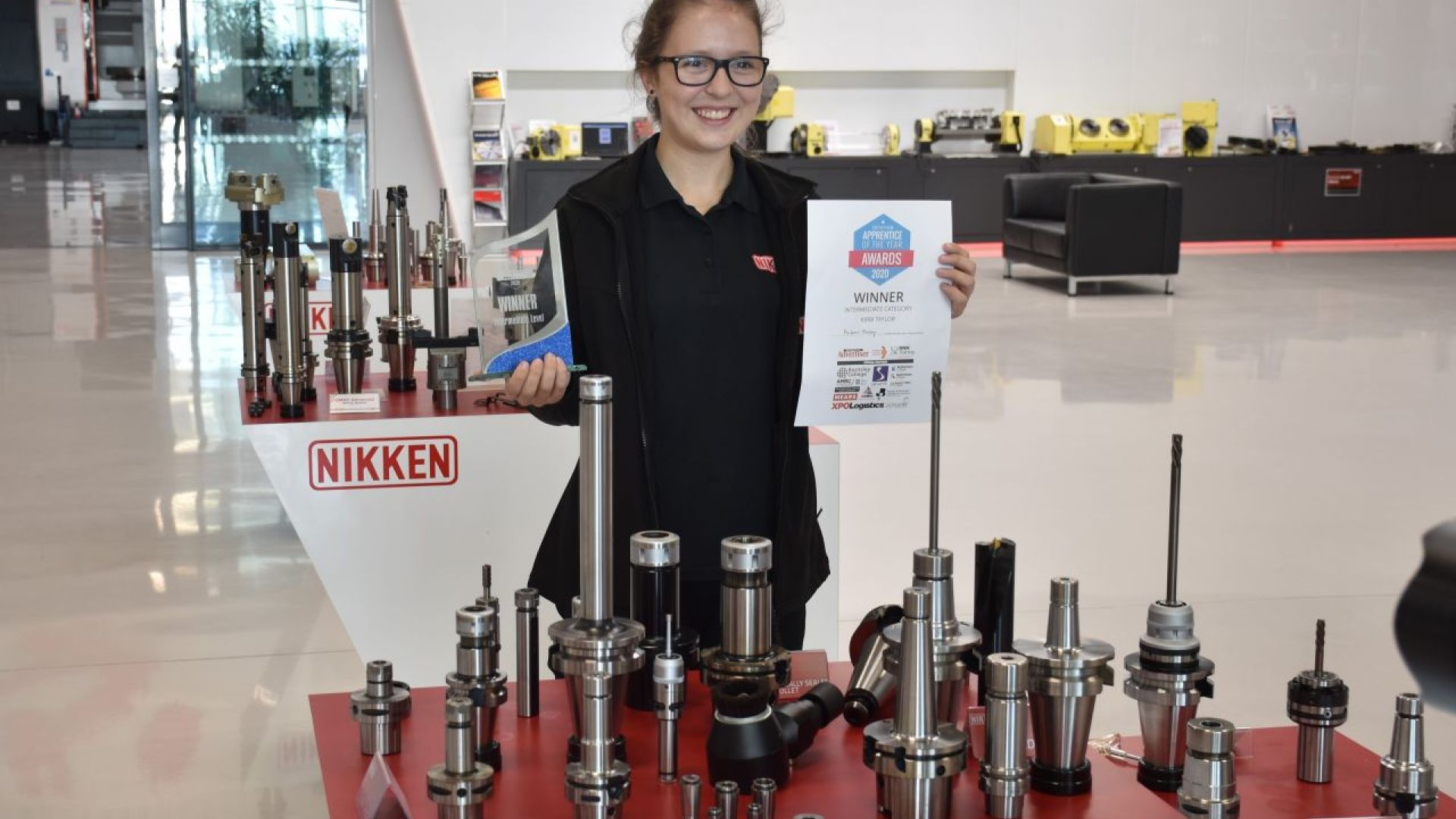 'Focus, passion and determination' has seen talented engineer-in-the-making Kirbi Taylor crowned a winner at the Rotherham Apprentice of the Year Awards.
The 18-year-old AMRC Training Centre apprentice, who is employed as a mechatronic maintenance apprentice with NIKKEN, won in the intermediate category of the awards beating off competition from more than 50 applicants from a range of industries.
Kirbi said: "Even being shortlisted for the award was an honour, but I am truly grateful to be thought of as Rotherham apprentice of the year.
"My time at the AMRC Training Centre has helped me develop not only my skill set but as a person.
"NIKKEN was my first choice to undertake my apprenticeship, the opportunities they provide to develop my learning and the variety of the work offered has prepared me for a lifelong career in engineering."
Kirbi, of Doncaster, was recognised for her exceptional contribution and commitment to NIKKEN by a panel of judges from the Barnsley and Rotherham business sector who said her focus and passion for her apprenticeship and the company she works for 'came through loud and clear'.
"She is very focused and determined and has a mature approach," said the judges. "She sees the bigger picture of how the whole organisation functions and how she can impact the business by being flexible and working in other departments. Her journey to gain her apprenticeship has not been an easy one, but through sheer grit and determination she gained a place at NIKKEN. Through her hard work and passion, she is making a difference and an impact in the organisation."
With a lifelong curiosity in engineering and following her grandfather's own success in the industry, Kirbi decided to follow in his footsteps and pursue a career in engineering. She is undertaking an apprenticeship in mechatronic maintenance with NIKKEN and the AMRC Training Centre, which is part of the University of Sheffield Advanced Manufacturing Research Centre (AMRC).
Kirbi's passion and commitment has not gone unnoticed at NIKKEN. Service Manager, Mark Timmons, said: "Kirbi is a breath of fresh air; friendly, confident and greets everyone with a smile. She is eager to learn and get involved with as many areas of the business as possible. We have three apprentices in the Service Department who have all excelled in their careers. They are fundamental to the future of NIKKEN and engineering. I look forward to watching Kirbi and our other apprentices' careers develop as they take on more responsibilities and challenges."
Director at the AMRC Training Centre, Nikki Jones, said the AMRC Training Centre has enjoyed a proud and long established relationship with NIKKEN since founding in 2013 and together they continue to produce valued, highly-skilled apprentices year-on-year across several different skill sets.
"Kirbi's achievement is a continuation of that extremely successful collaboration between the two organisations. It comes as no surprise to us that she has received recognition for her efforts and achievements as an apprentice engineer.
"She is a talented apprentice and a deserving winner. Since joining the AMRC Training Centre with NIKKEN, she has shown true dedication and commitment to the engineering apprenticeship programme and has seized every opportunity presented to her with passion and vigour. Kirbi is incredibly ambitious and we're in no doubt she has a very bright and rewarding future ahead of her."
NIKKEN is a strong advocate for apprenticeships and is committed to allowing local young people a chance to develop a career and contribute to the future of engineering. With several AMRC Training Centre apprentices already successfully placed throughout the business, in a variety of departments ranging from technical to service and machining, the Apprentice of the Year Award is not the first time NIKKEN has seen success through their apprentices, having already won the award in 2015 with service engineer, Jonny Watson.
In addition to this award, Kirbi is also shortlisted as a finalist in the University of Sheffield AMRC Training Centre's Apprentice of the Year awards and has already won the centre's 'Spotlight' award for the best in cohort last year.