Close Brothers cements commitment to apprenticeships with AMRC Training Centre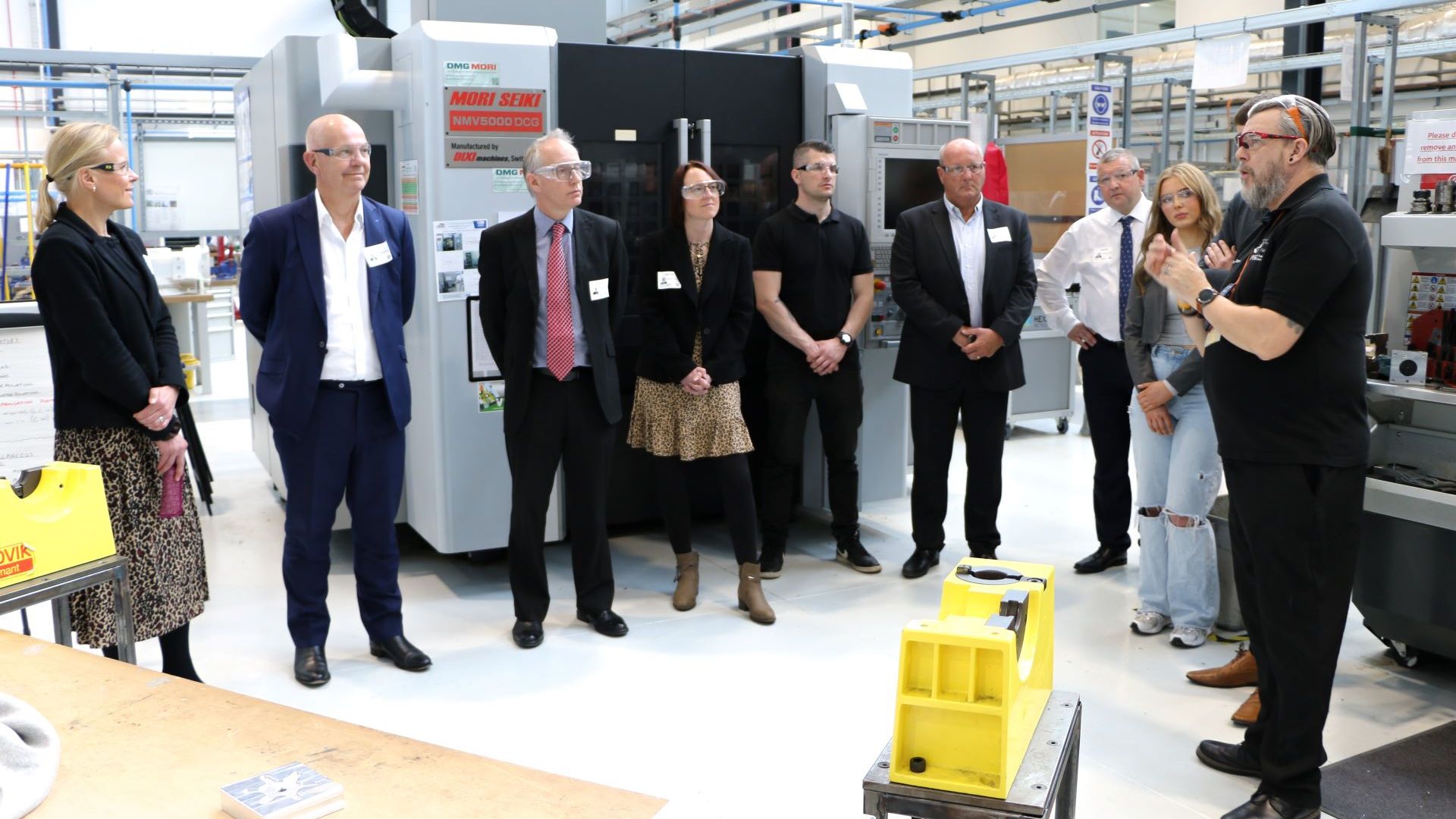 A partnership between Close Brothers and the University of Sheffield AMRC Training Centre has further cemented a commitment to supporting apprentices and small and medium-sized enterprises (SMEs), helping businesses secure sustainable growth to build an engineering workforce for the future.
Over the past eight years, the Close Brothers SME Apprentice Programme has supported the training of 55 apprentices at the AMRC Training Centre, part of the University of Sheffield Advanced Manufacturing Research Centre (AMRC) innovation cluster. The next stage of the partnership will now see a further 20 apprenticeships funded over the coming year, with the intake beginning in September 2023.
As many businesses try to survive the squeeze of inflationary pressures, the Close Brothers SME Apprentice Programme helps small and medium-sized enterprises (SMEs) to grow their workforces and recruit new apprentices, providing a vital opportunity for businesses to invest in local talent and skills.
Nikki Jones, director of the AMRC Training Centre, said its partnership with Close Brothers plays a crucial role in ensuring SMEs are equipped to employ apprentices, which helps these businesses to continue to thrive.
"We are so grateful for the support we've received from Close Brothers over the past eight years and it's a relationship we value highly," added Nikki. "Their support has made a huge difference to the lives of so many apprentices and it's a partnership we are excited to continue growing in the future.
"This scheme not only supports apprentices to have the opportunity to explore an avenue which might not have been available to them previously, giving them the chance to learn and gain an important set of skills businesses are calling out for, but it also helps local SMEs to recruit the next generation of engineers.
"It's these smaller businesses that remain to be the lifeblood of our communities and local economy, and such support helps guide them through a difficult financial period currently being faced by many and fill any current skills gaps. What we do with Close Brothers provides the industry with a vital lifeline to carve out an engineering future of excellence within UK manufacturing."
Adrian Sainsbury, Chief Executive of Close Brothers Group plc, said: "We are delighted to be partnering again with the University of Sheffield AMRC Training Centre. It opens up great opportunities for young people and helps create a much-needed pipeline of future engineering talent.
"Apprenticeships are an excellent way for UK SMEs to fill skills gaps, develop their future workforce and improve long-term growth prospects.
"We know from experience that SMEs often need assistance to take on apprentices, so over the past eight years we have established a programme that aims to help with the specific issues they are facing including the cost of investing in an apprentice. We also want to help businesses establish a diverse and dynamic workforce of young fresh talent with new ideas and an eagerness to learn the skills and knowledge required to build a rewarding long-term career.
"We are proud to be playing our part to help small businesses invest in their future and pass important skills onto the next generation."
Under the scheme, Close Brothers contributes up to 50 per cent of the wages of the apprentices in the first year and 25 per cent in the second year and covers all training costs. This year, Close Brothers will be funding 15 new apprentices and five progressing apprentices to higher and degree apprenticeships.
Apprentice alumni Adrian Salatowski received support through the Close Brothers SME Apprentice Programme. He undertook a Level 3 Advanced Manufacturing Apprenticeship and progressed to a Level 6 Degree Apprenticeship in Manufacturing Technologies at the AMRC Training Centre.
The 31-year-old has worked for CWE Ltd, based in North Lincolnshire, since January 2020. He began at the company as a CNC machinist and progressed to a quality assurance inspector role shortly after. He is now a quality assurance manager.
Adrian said that receiving support from Close Brothers gave him a big boost and laid a solid foundation for his engineering career.
"An apprenticeship appealed to me because of the accessibility element. As a foreign student from Poland, an apprenticeship seemed like the best way for me to redirect my life and join the engineering patch," added Adrian.
"My family has always been very technical in various industries and an apprenticeship for me seemed like a natural continuity of the family tradition to join the same path. My engineering road was bumpy since I came to the UK from a different country, but having the support from Close Brothers has helped me immeasurably to have a job in engineering and boost my career.
"As a proud part of the industry, I keep developing my strengths and growing as a professional. The skills and knowledge gained during my apprenticeship helped me prove my position at work which resulted in various promotions and general appreciation of my efforts."
Another former apprentice supported by the Close Brothers SME Apprentice Programme is 21-year-old Rosie Davies. She is a Level 3 CNC machine operator at Penny Hydraulics in Chesterfield and has worked there for almost three years. At the AMRC Training Centre, she achieved a Level 3 diploma in advanced manufacturing and engineering (Computer Numerical Control).
Rosie said: "Receiving the funding from Close Brothers has allowed the company to train me on our new CNC machine and it has enabled me to have the amazing opportunity to work in the engineering industry and to earn while I learn.
"My grandfather, dad and uncle inspired me to pursue a career in engineering. As it runs in my family, it has always piqued my interest. Ever since I was younger, I have watched them take things apart and figure out how they work, or fix things I was sure would be broken for good - I wanted to be like them.
"An apprenticeship gave me the skills and knowledge I needed to constantly develop my skills in the workplace, while teaching new apprentices the things I have learned. It's something I'll always be very grateful for."
Also working for Penny Hydraulics is design engineer Louie Hodkin. He gained a Level 3 in Technical Support at the AMRC Training Centre and is currently working towards his Level 6 degree in manufacturing technology.
"I didn't want to go to university, but I wanted a degree, so I was in a difficult position until I found the AMRC Training Centre, which was specific to engineering," added the 23-year-old. "It has allowed me to earn money while gaining valuable experience.
"Without the support of Close Brothers and this scheme, I wouldn't have been able to undertake an apprenticeship or have the opportunity to take on multiple courses through the AMRC Training Centre."
For those wanting further information about the Close Brothers SME Apprentice Programme, please contact Marc Rhodes, business development account manager for the AMRC Training Centre via email: marc.rhodes@sheffield.ac.uk, or call 0114 215 8036.