Close encounter of the AMRC kind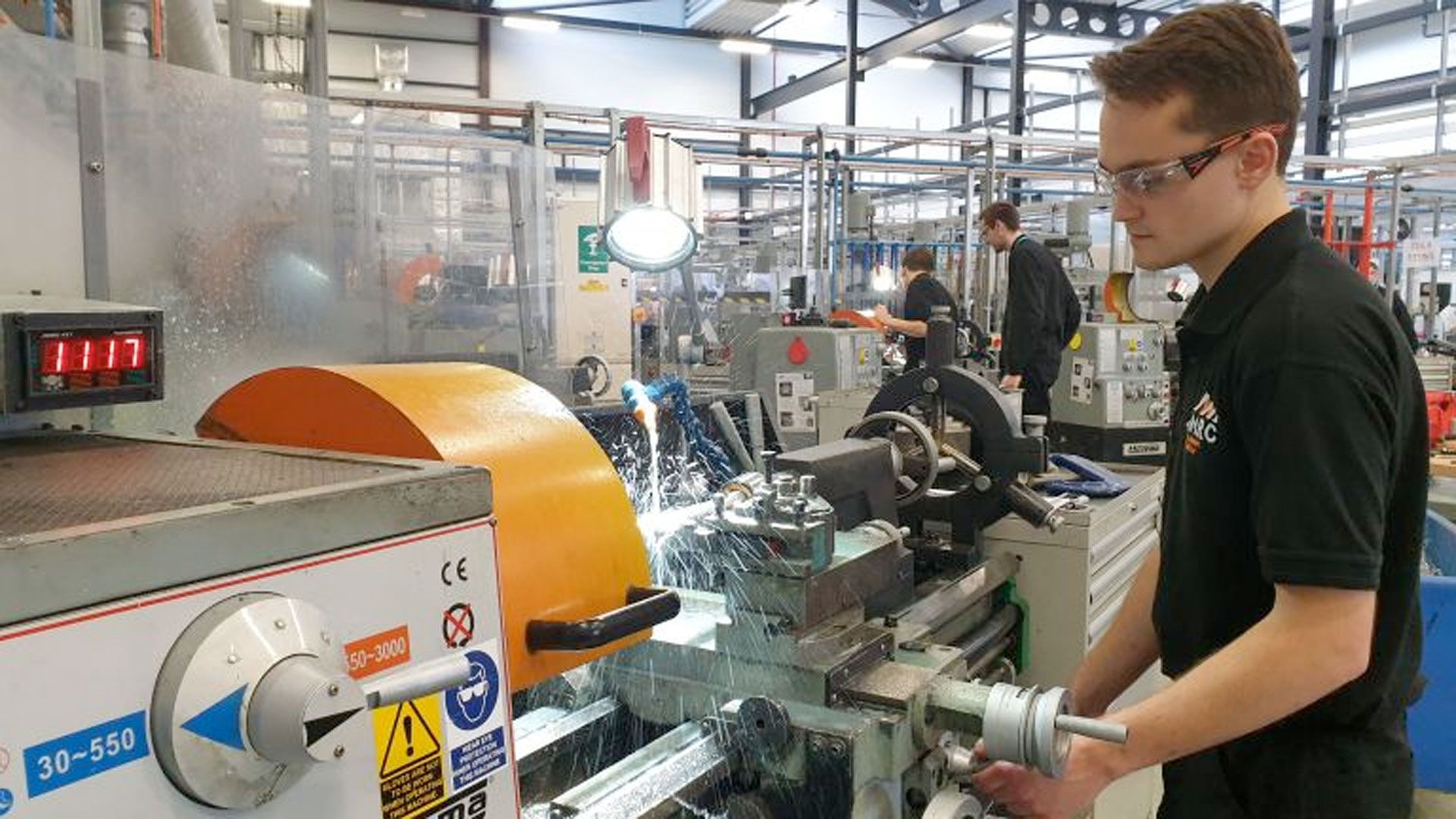 A chance meeting in a pub with AMRC co-founder Adrian Allen proved to be a fortunate encounter for a Doncaster teenager – he's now an apprentice engineer sponsored by one of the world's largest industrial trade shows.
Sean Delaney, who is employed by the University of Sheffield AMRC's Advanced Structural Testing Centre (ASTC) as an apprentice test technician, is in the first weeks of his advanced apprenticeship with the AMRC Training Centre, which is being supported by IMTS – The International Manufacturing Technology Show in America.
The 18-year-old says had it not been for Adrian - the machine tool entrepreneur who helped set up the hugely successful University of Sheffield Advanced Manufacturing Research Centre (AMRC) with Professor Keith Ridgway and Boeing – then he wouldn't be where he is now, fast on his way to becoming a talented engineer of the future.
"I only discovered the AMRC Training Centre after meeting Adrian in the pub by chance," said Sean. "He dropped something, I picked it up and gave it to him and we started to chat. It all started there. Adrian invited me to come for a tour of the AMRC and I took him up on the offer. I came away thinking how much, if it was possible, that I would like to work at the AMRC."
He soon found out it was possible – with an apprenticeship – and that opportunity came about through Adrian and his longstanding relationship with AMT – The Association for Manufacturing Technology, the leading American manufacturing trade association which owns and organises IMTS and agreed to sponsor Sean.
Peter Eelman, AMT Vice President and CXO, said: "AMT and IMTS believe in building a network of strategic partners to establish a community of practice in which manufacturing research, technology, and education are at the forefront.
"The University of Sheffield Advanced Manufacturing Research Centre has a legacy of educational excellence and a breadth of industrial partners who are united in advancing our industry. The alignment between the IMTS Apprentice program and the AMRC presented a unique opportunity and a natural extension of our ongoing mission to elevate the value we bring to our members and events in this global economy."
As part of his sponsorship, Sean will be posting a weekly blog on what he is learning and this will be published on the IMTS website and across its social media channels. Sean says the blog will be good preparation for when he travels to Chicago next year where he will give a speech about his apprenticeship to guests attending IMTS 2020.
"It's a fantastic opportunity and I'm very excited for what the future holds," Sean said. "I definitely intend to go as far as I possibly can both in terms of career and education."
He began his apprenticeship in September and will study for 36 weeks at the AMRC Training Centre's real-world manufacturing environment before going into a company, gaining hands-on experience with industry-standard equipment and learning the fundamentals of engineering theory and manufacturing processes.
He said: "I'm learning how to use CNC machines and tools to cut, drill and finish components; milling; fitting and programming. I'm very happy with how we've got straight into it. I was expecting a lengthy time where we would be eased into things but they've thrown us straight in which I think is really good because I like to be challenged."
In his role as an apprentice test technician with the ASTC, he will assist the team with the setting up of tests and use his newly-acquired machining skills to create jigs and test coupons. He will also be involved with producing validation and certification reports.
Head of the ASTC, Phil Spiers, said: "It's these chance meetings on which the world spins. Sean is a great lad, hardworking, clever and conscientious. He will be a real boost to the Advanced Structural Testing Centre. His apprenticeship will also deepen our relationship with our friends across the pond at the AMT and IMTS."
Sean was in the final year of studying for his maths, physics and history A-Levels when he crossed paths with Adrian. And while Sean has always chosen subjects geared towards engineering, he says he'd never given much thought to pursuing it as a profession.
"I've always taken engineering-related subjects at school and although it has always been there in the background, I'd never considered engineering as being a career path," he said. "Originally I tried to join Welbeck (Defence Sixth Form College) but broke my leg playing rugby and I didn't get in because of that injury.
"So I kind of 'fell' into studying A-Levels not really wanting to do it. If I knew about the training centre two years ago I would have come here rather than go to sixth form college. It's not that I don't like classroom work, I can do it and I can enjoy it but not five days a week. I want to be doing something hands-on too.
"I did two weeks working with the ASTC before starting my apprenticeship, just to get a feel for the place, and I was so impressed. The working environment across the AMRC is unbelievable."
For more on Sean's journey follow his weekly blog here: www.imts.com/educators/apprentice/