First-class celebrations for degree apprentices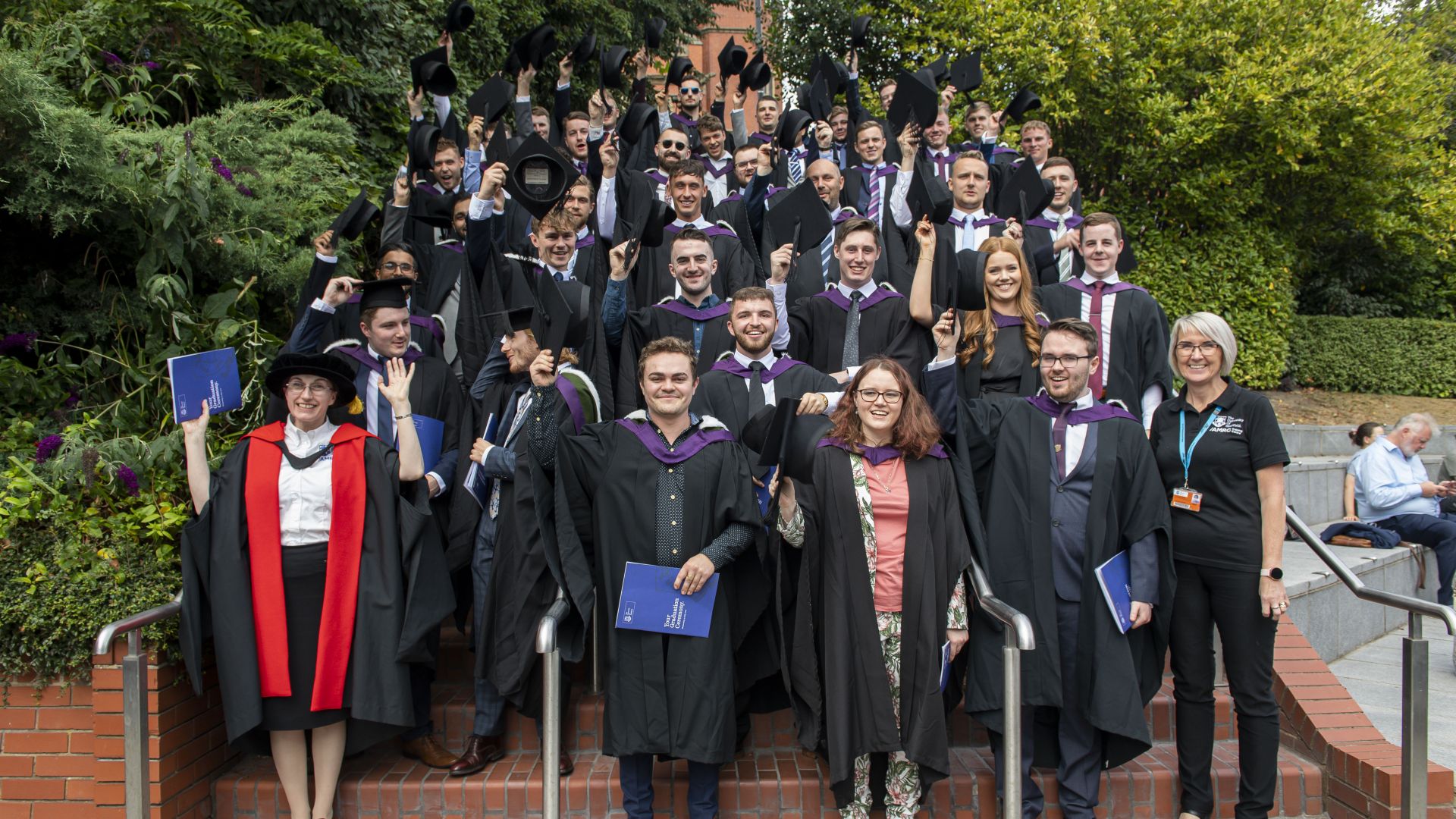 The largest cohort of AMRC Training Centre degree apprentices yet have celebrated becoming Bachelors of Engineering from the University of Sheffield.

A long-awaited graduation ceremony took place at the Octagon Centre, on the university central campus, allowing the graduands to finally collect their awards after a year-long pause on face-to-face events.
Forty-seven apprentices received Bachelors of Engineering (BEng) in Manufacturing Technology, Maintenance Engineering and Mechanical Manufacture, whilst being cheered on by teachers, friends and family, as well as loved ones watching the live stream from across the UK. An impressive 24 engineers gained first-class honours.
Louise Cowling, head of degree apprenticeships at the University of Sheffield AMRC Training Centre, says she is immensely proud of the group.
"This cohort has shown resilience, adaptability and, as for every year, hard work. Some of our apprentices have been furloughed, others have changed job roles, many moved to online learning then back again, and others had to change their final year projects because of changing work environments and roles," said Louise.
"The combination of academic ability, practical engineering skills and three to four years of working in real manufacturing and engineering roles makes these apprentices very valuable to their employers who have supported and developed them throughout this time."
Graduates were made up of apprentices from Stanley Black & Decker, Tribosonics, Orchid Orthopaedic Solutions, the University of Sheffield Faculty of Engineering, Pneumatic Components Ltd and several other companies who use the AMRC Training Centre as a training provider. The group also included the first cohort of Rolls-Royce apprentices who started with the training centre four years ago.
Kerry-Anne Jones, apprentice development leader from Rolls-Royce attended the ceremony. She said: "Being able to see how much our apprentices have grown in the last four years has been fantastic and rewarding to see.
"Especially with this cohort, it's thrilling to see where they have come from to where they are now given all the uncertainty they have had. I think they are going to be a real asset to Rolls-Royce."


Among those who graduated was Rolls-Royce apprentice, Kate Todd-Davies, who was crowned overall winner of the AMRC Training Centre Apprentice of the Year awards in 2021, as well as winning North East Region Higher or Degree Apprentice of the Year and becoming a finalist at this year's National Apprenticeship Awards. She said she would celebrate her first-class honours with a family meal and more celebrations with friends.
Kate was joined by Shivan Morkar, a William Cook apprentice who was crowned the 2019 winner of the AMRC Training Centre awards, along with many other winners and finalists.
Jack Gascoigne, apprentice engineer at the University of Sheffield Advanced Manufacturing Research Centre (AMRC), who graduated alongside the pair with first-class honours, said:
"It was a very proud moment for me and my family as it was a chance to celebrate my hard work. Being here with my friends who have stuck together and helped each other throughout the entire degree is a great way to finish it all off.
"Receiving a degree is such an amazing feeling. It feels like I have something to show for the time and effort that I have put into my education and into becoming an engineer. I will always be proud of this achievement and I am sure I will look back on it in years to come with a big smile."
For more information on the AMRC Training Centre degree apprenticeship programme, visit: www.amrctraining.co.uk/degree-...