National awards beckon for nifty apprentice
Published on 25/11/2020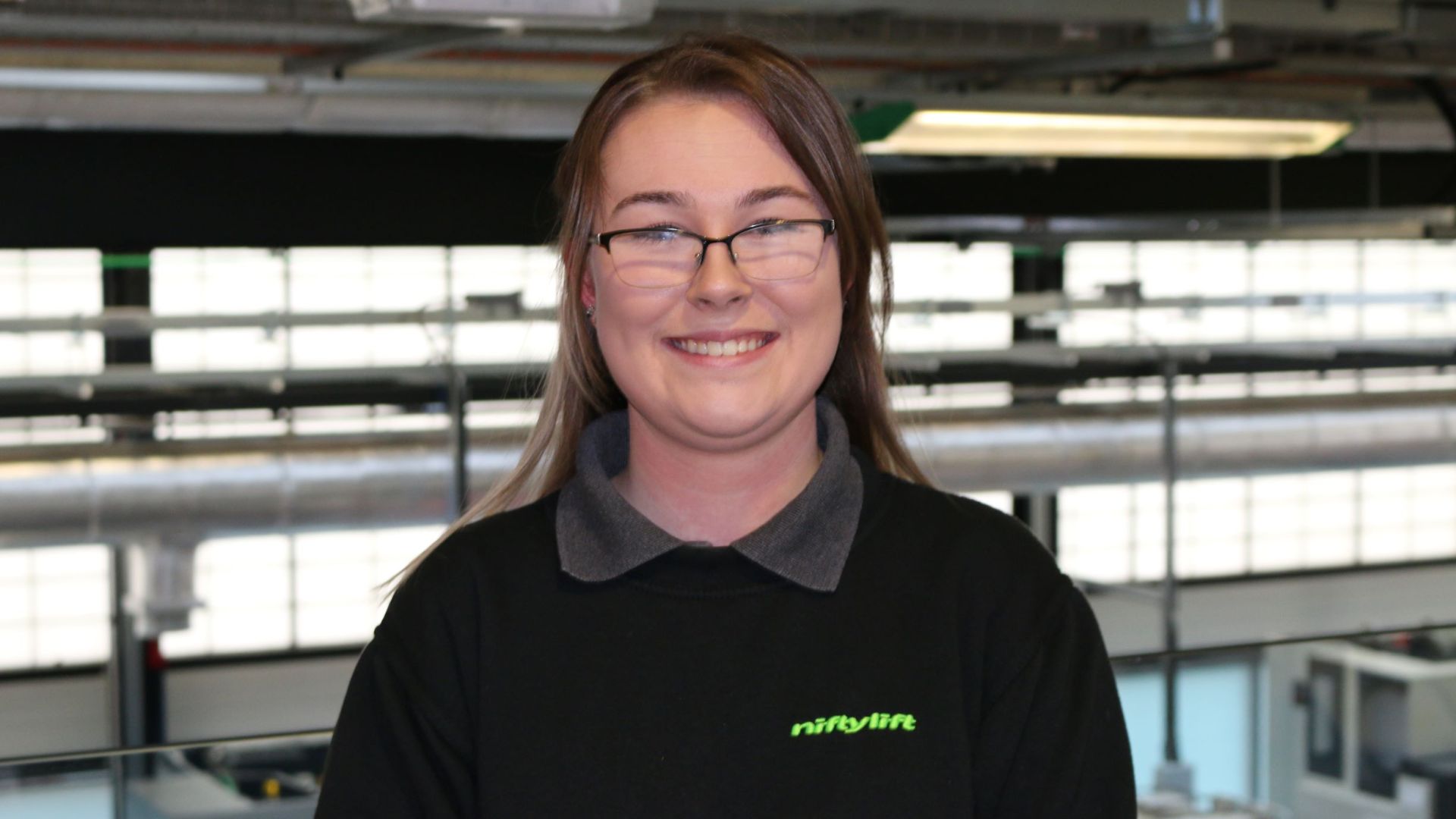 A talented University of Sheffield AMRC Training Centre apprentice who led a project that will potentially save her company Niftylift up to £30k a month has made the finals of the National Apprenticeship Awards.
Emma Sisman earned her place at the national final after being crowned Advanced Apprentice of the Year at the regional ceremony for Yorkshire and Humber. She is the third AMRC Training Centre apprentice in three years to reach the national final, following in the footsteps of Oliver Marsh in 2018 and Rebecca Wright in 2019.
"I never thought this would happen, the fact it has still hasn't sunk in. I'm so proud," said Emma. "It means so much because it shows the hard work I have put in over the past three years of my apprenticeship has paid off and other people recognise that. I think the judges saw the amount of hard work and determination I have put into my work throughout my apprenticeship."
The 22-year-old is employed by Niftylift, a leading manufacturer of mobile elevating work platforms based in Barnsley. When she joined the company two years ago she had 'little to no experience or knowledge' of engineering and manufacturing. She's now the second highest skilled person in her department.
"That shows the power the apprenticeship programme has in developing and progressing individuals," said Emma, who completed a three-year technical support apprenticeship and is now in her first year of a manufacturing technology degree apprenticeship. "My greatest achievement to date during my apprenticeship has been heading up a project where we demonstrated a potential to achieve a reduction in lost-in-production parts cost by up to 80 per cent, which could save the company on average £29,000 per month."
It is one of several projects she has been involved with that have made an impact on the bottom line of the business. Her next goal is to manage and drive resolution to internal and customer non-conformance issues. At the start of the year these were taking in excess of 20 days for resolution. However, due to her management and coordination, and using quality tools, these have reduced to under five working days.
It is the blend of practical skills and knowledge gained during her University of Sheffield AMRC Training Centre apprenticeship, coupled with a progressive company like Niftylift that values its human capital, which saw Emma triumph at the regional heat of the National Apprenticeships Awards held earlier this month.
Nikki Jones, Director of the AMRC Training Centre, says Emma is a credit to Niftylift and a very deserving winner. She said: "She is a perfect example of how industry can harness the fresh-thinking, skills and new ideas apprentices bring into company and use those to help them innovate, drive productivity, become resilient, recover and regrow.
"We're so proud of Emma for what she has achieved; it's testament to her remarkable abilities as an engineer. She is already a winner in our eyes but everyone here at the AMRC Training Centre will be rooting for her at the national finals and we wish her the best of luck."
The National Apprenticeship Awards, now in its 17th year, celebrates apprenticeships and the benefits they bring to individuals, businesses and local communities. This year's event attracted more than 1,100 entries from apprentice employers, apprentices and apprenticeship champions from all industries. Regional winners were announced earlier this month and the national ceremony takes place in the virtual world on Wednesday, November 25.
Apprenticeships are a cornerstone of the government's plan for jobs announced earlier this year to help the UK's recovery from the pandemic, pledging £1.6 billion to be invested in scaling up employment support schemes, training and apprenticeships to help people looking for a job.
On announcement of the regional winners, Gillian Keegan, Apprenticeships and Skills Minister, said: "Apprenticeships are a great way of attracting new talent, helping to make sure employers of all sizes have access to the skills they need to grow. They will play a vital role rebuilding our economy after the pandemic, transforming businesses and revitalising local communities. I wish all the winners the best of luck for the final virtual award ceremony."
Peter Mucklow, director, Education and Skills Funding Agency added: "Employers and apprentices alike continue to commit to apprenticeships for the many benefits they bring, and I admire that commitment, especially through the difficult period 2020 has brought. I offer huge congratulations, not only to the winners and highly commended, but to all entrants to these awards."