National Manufacturing Day ignites spark for future engineers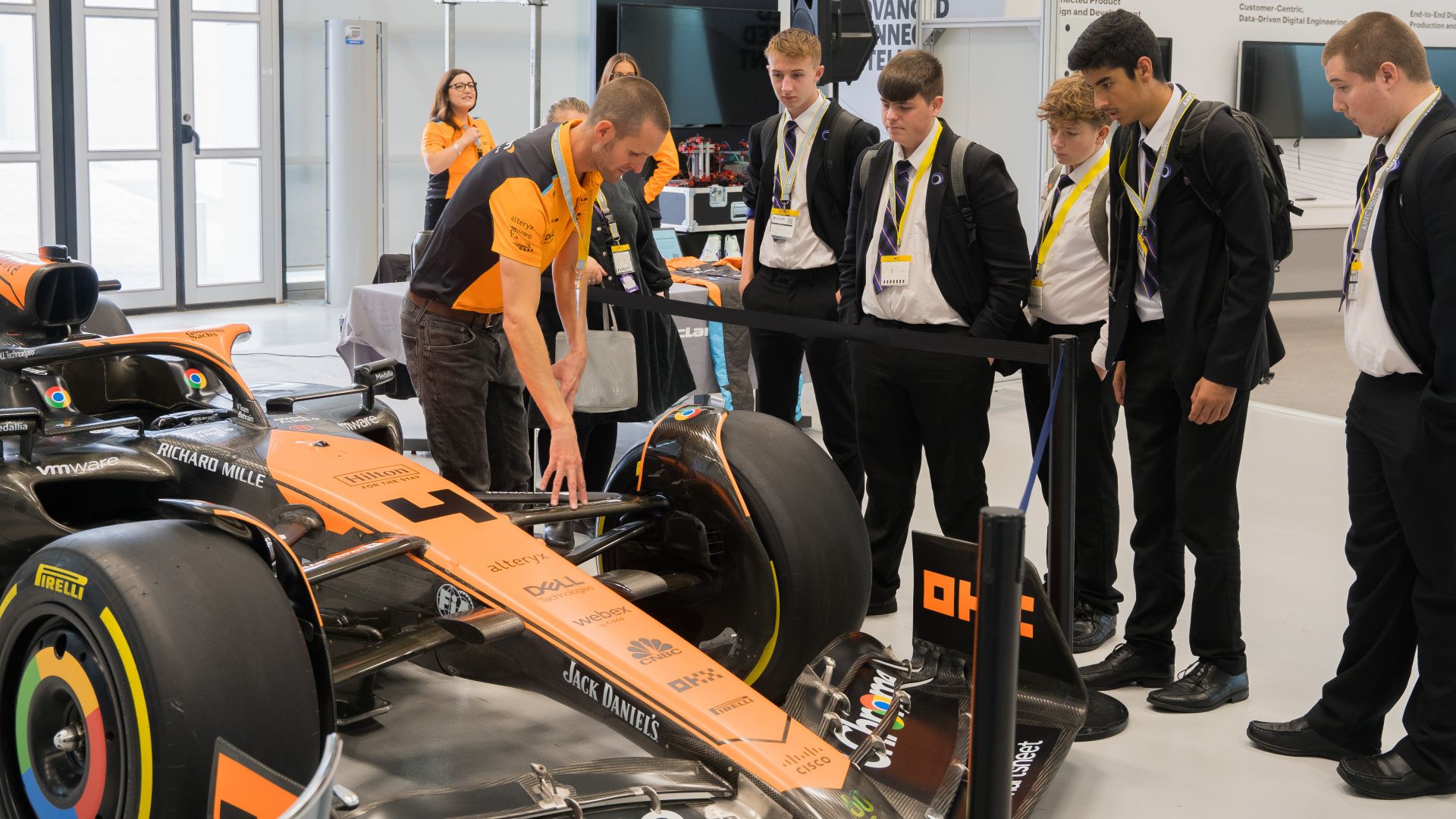 'Unforgettable' is what students and teachers said about their National Manufacturing Day event experience hosted by Make UK, the University of Sheffield Advanced Manufacturing Research Centre (AMRC) and the AMRC Training Centre.
The AMRC's flagship Factory 2050 facility opened its doors to welcome 150 people, made up of school pupils and members of the public from across South Yorkshire, to celebrate the engineering, innovation and manufacturing sectors. Acting as a hub for some of the region's change makers to manufacturing, everyone came together under one roof with the aim to inspire, inform and ignite young minds about the possibilities and career opportunities on offer within the industry.
AMRC engineers and apprentices from the training centre brought Factory 2050 to life for visitors, showcasing some of the best cutting-edge technologies such as augmented reality (AR), robotics and digital, and gave inspirational TED-style talks about their own experiences working in advanced manufacturing. There was also the chance to get up close and personal with two McLaren show cars and talk with McLaren staff about the composite components that feature on them.
Steve Foxley, CEO of the University of Sheffield AMRC, said: "National Manufacturing Day provides us with a fantastic opportunity to show people around our facilities and give an insight into what we do and what's going on in advanced manufacturing and engineering.
"This event, in partnership with Make UK, really is all about young people, our future engineers that have come through the doors. I genuinely love days like this and I hope it has helped to spark their imagination and interest in this industry, that they have learned something new and there has been an area of interest they have seen that starts a fire in their belly."
Stephen Phipson, CEO of Make UK said: "This has been a really exciting day where the whole of the manufacturing sector came together to celebrate and gave local people the chance to see what modern manufacturing and engineering is really like.
"There were hundreds of wonderful events up and down the country which gave young people, looking to make that first career choice, an opportunity to explore the wide-ranging job opportunities open to them. Britain's manufacturing companies are out there every day driving innovation and really making their mark on the global stage, and we have every reason to be proud of what we do."
A stellar cast of regional and global manufacturers, including Boeing, McLaren Racing and McLaren Automotive, Hybrid Air Vehicles, Razor and FourJaw, lined up alongside the AMRC, AMRC Training Centre and Nuclear AMRC to champion industry and highlight the impact manufacturing has on people and places.
Dan Swift, business development manager at the AMRC Training Centre, said: "The advantage of National Manufacturing Day is young people get the opportunity to see where an employer and a training provider merge, providing information on the skills that are required for the job and the training centre is linked in as we help to develop and teach those skills."
Marc Rhodes, business development manager for the AMRC Training Centre, added: "Events like these provide a platform for students to come and see the relationship between education and industry and high-tech equipment, alongside also being able to take part in interactive exercises like the augmented reality welder."
Ardita Berisha, a student from Outwood Academy City in Sheffield, said: "Seeing the demonstrations and talks were really good as you don't normally get to see what you can do and how to get there in engineering beyond what we learn about in school. It's a unique opportunity to see all the different types of things and how it works."
Chris Bellamy, a manufacturing engineer based at Boeing Sheffield, spoke about what staff do at the global aerospace manufacturing facility, and the career paths that Boeing Sheffield can offer.
"Events like these are really important as they bring to life the endless possibilities available in a career in manufacturing," said Chris. "I believe the opportunities for the next generation of engineers are huge and it's important for industry and academia to come together to celebrate the industry. I hope we have inspired at least one or two people and I think it's important for them to know that companies like Boeing are here in the local area."
Jamie Hinton, CEO of Razor, a technology consultancy based in Sheffield, was 'absolutely thrilled' to be part of the event, which he said helped to ignite the spark of curiosity in our future engineers.
"The collaboration of companies coming together from across the region is nothing short of inspiring," said Jamie. "Getting young minds interested in engineering and manufacturing is not just about the future of our industry; it's about the future of our world. Every young person inspired today becomes a pioneer of tomorrow, shaping the technologies and innovations that will define our era."
Ruben Mobbs from Astrea Academy Dearne in Goldthorpe, said the event was really enjoyable, adding: "I have a massive interest in engineering and would love to go down this route. Attending this event has been really valuable as it's an environment that I have never had the opportunity to see before, so I am very pleased we were able to come along."
Adrian Burgoyne, design and technology technician at Wingfield Academy in Rotherham, said: "This event has been a really enlightening day and all of the students thoroughly enjoyed themselves. The facilities here are amazing and we've all certainly learned something.
"To see this sort of technology and advancement is not a very common thing they are able to see and it has been an unforgettable experience. For this age group to see engineering in action, it gives them a real idea of what the industry is like and gets the interest in their minds. It has definitely been our highlight of the week."