Spotlight on apprentice success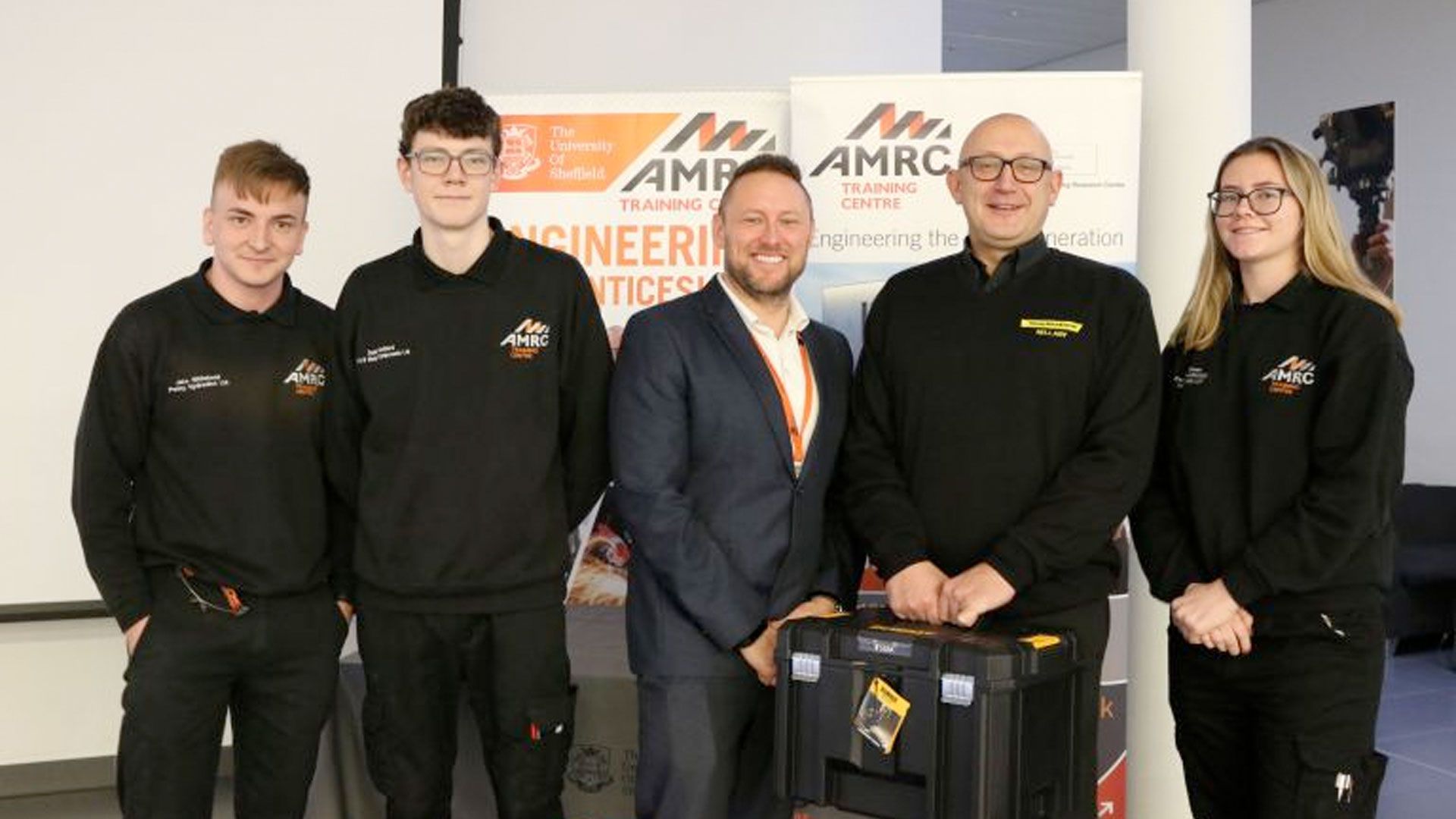 There were celebrations today as the AMRC Training Centre awarded certificates and prizes to four talented apprentices for going 'above and beyond' in their apprenticeships.
Daniel Goddard, Karina Picolomini Pinto, Abbie Green and Jake Whitehead were winners in the training centre's internal Spotlight Awards which recognises the hard work, dedication and ambition shown by new apprentices. They have each won a tool box kit donated by iconic tool maker Stanley Black and Decker (SBD), presented by the company's Hellaby plant manager, John Steel.
The first award went to Daniel, who works for P&B Metal Components Ltd, is a machining apprentice. His trainer, Richard North, said Daniel is a pleasure to teach. "He has an exceptional desire to learn. Daniel goes above and beyond and supports other apprentices if they need help, or to share best practice. Daniel's commitment to learning sees him machine at an advanced level.
Maintenance apprentice Karina, employed by Polypipe, received a staggering four nominations, all from different trainers. Jon Radford, skills trainer, said: "Karina has a thirst for knowledge, she is extremely polite, always on time, very respectful, and pleasure to teach. She deserves this recognition." She wasn't able to attend the ceremony but will collect her prize in the new year.
Abbie, who works for Castings Technology International, is a technical support apprentice. Her trainer Mark Burdett praised her attitude and positivity. "Abbie has produced some excellent work for technical support qualification," he said. "She always works with a positive attitude, and always fully engaged with her learning. She is a positive role model to other apprentices within the AMRC Training Centre."
Jake Whitehead, a welding apprentice with Penny Hydraulics, was told he is a 'credit to the training centre' by trainer, Kieron Weston, who said: "Jake's attitude has been exemplary from day one. He is polite, courteous and a pleasure to teach. Jake is a credit to the centre."
John Steel, from Stanley Black and Decker, said celebrating new upskilled talent linked to reward and recognition is a key cornerstone of the company's corporate social responsibility strategy.
"I am proud to be involved with the AMRC Training Centre in this celebration and to be an ambassador of the Stanley Black and Decker corporate social responsibility strategy," said John.
"SBD have identified that globally ten million jobs in manufacturing remain unfilled due to gaps in skills. We recognise that our own workers, as well as those in the communities where we live and work, will require education, learning, upskilling and experience to ensure they can thrive in this new context.
"We are committed to helping employees and people of the world gain the skills and expertise needed to secure jobs and revitalise communities."
Director of the training centre, Nikki Jones, said each of the apprentices displayed the exceptional qualities they look for in a Spotlight Awards winner.
"We hold these awards to give recognition to those apprentices who display commitment, ambition and enthusiasm for their apprenticeship and work; particularly those who have gone above and beyond by displaying high level technical skills or taken part in extracurricular activities such as external events.
"Other qualities we look for are high levels of attendance and punctuality, excellent behaviour and, above all, high levels of professionalism.
"I'm pleased to say Daniel. Karina, Abbie and Jake have all of these qualities. We hope they make good use of their toolkits which have kindly been donated by Stanley Black and Decker, and without whose support we would not be able to provide the excellent prizes we do to reward the achievements of our apprentices.
"We very much value the relationship we have with Stanley Black and Decker. Not only are they the world's biggest tool manufacturer but like us, they understand how important it is to invest in apprenticeships to meet the manufacturing skills demand and know first-hand the rewards apprentices can bring to a company."