Transforming lives one apprentice at a time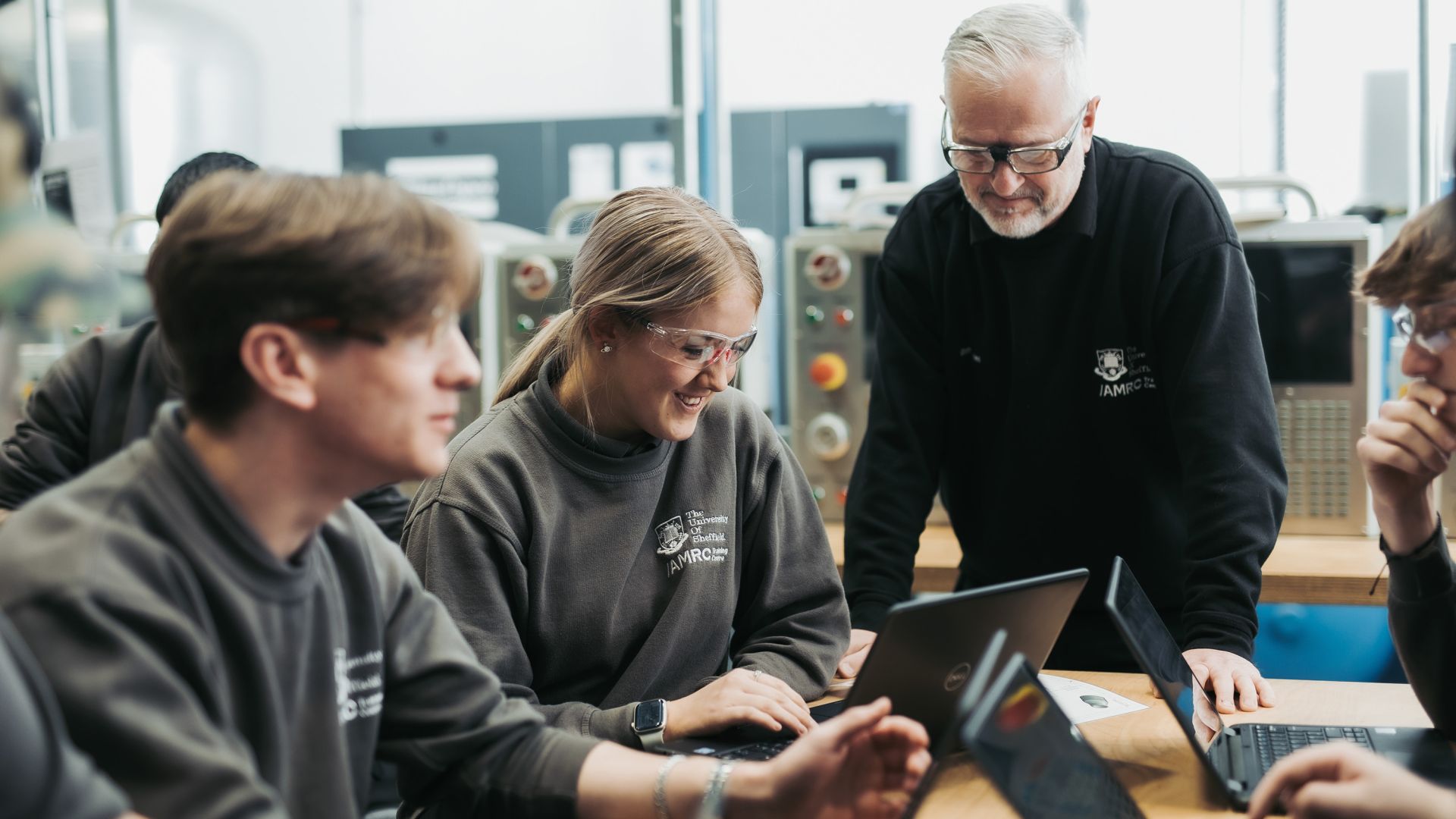 This year, the University of Sheffield AMRC Training Centre celebrates its tenth birthday. Katia Harston sat down with director Nikki Jones to talk about a decade of delivering engineering apprenticeships.

"Apprenticeships transform lives. They provide the workforce for the future. They are part of the bloodline that keeps industry moving."
Nikki Jones, the director of the AMRC Training Centre, doesn't pull any punches when it comes to answering the question on why she thinks apprenticeships matter for regions, for the economy, and for industry.
And Nikki knows her stuff. She has spent five years at the helm of the AMRC Training Centre, which works hand-in-hand with employers to provide the manufacturing industry in South Yorkshire, and beyond, with access to a pipeline of highly skilled people needed to drive growth and help UK businesses compete on a global stage.
This year, on October 7, the training centre turns ten - marking exactly a decade since the first cohort of apprentices started in 2013. Since opening, it has worked with 400 different businesses and has delivered more than 1,700 apprenticeships - from advanced through to degree - alongside continuous professional development to upskill and reskill existing workforces.
"When you bring together education and industry - it is very powerful. You might describe it as a marriage made in heaven," says Nikki. "We've been doing apprenticeships for ten years now and they matter just as much now as when we started. They are so important for the education mix and providing the workforce for the future. Any industry needs to have skilled people going into their businesses, apprenticeships give them access to that pipeline of talent.
"We must continue to invest in apprenticeships nationally and continue to support all employers - large or small - to take on apprentices. They bring in new skills and fresh ideas, and their ability to progress within an organisation starts very early. If you start your apprenticeship at 16 and finish at 22, you have been in that industry for quite some time and can move much quicker into senior roles. We see that over and over again.
"Apprenticeships start preparing a person for their work life. When you put a young person into that environment, they really develop holistically because they have to be more than just a qualification."
It is the training centre's special blend of strong ties to industry and academia, and its tailored approach to delivery, that has made it a key ingredient in catalysing a dense clustering of high value manufacturing companies across the Rotherham and Sheffield border. This includes significant investment from global companies such as Boeing, Rolls-Royce, and McLaren.
And, rightly, that hasn't gone unnoticed. The training centre has been cited by think-tanks, politicians and policymakers as a blueprint for how to do vocational education and training. Looking back through the list of visitors that have passed through its doors over the years, it reads like a 'who's who' of global industry and politicians. There's even been the odd TV personality and stars of the sporting world - yes, we're talking about Sir Alex Ferguson of Manchester United fame, himself once an apprentice toolmaker.
"There are so many pride points to look back on, so many remarkable achievements by our students and moments in time where we can say to ourselves - 'yes we got that right'. For me, it's an honour and a gift that I am able to play a very small part in the lives of other people."
Nikki hails from the Rhondda Valley in Wales and knows what it was like to grow up in a tough, working class mining town. A place not too dissimilar from parts of South Yorkshire where the training centre is based, which is on the site of the former Orgreave Colliery and Coking works in Rotherham.
For Nikki, education was a saviour of sorts, a way of breaking through the glass ceiling and unlocking doors to a promising future. Education is now Nikki's passion. She has dedicated her professional life to the sector, racking up more than 30 years in further education (FE) provision.
Her career began as a teacher in Somerset before going on to be a curriculum manager and taking up roles as a head of department and part-time Ofsted inspector. Nikki moved to South Yorkshire in 2010, where she was assistant vice-principal at Barnsley College. It was a post she held for six years before making the move to the AMRC Training Centre to be the head of training.
"When I started out, I became very passionate about education immediately. I could see how it had the power to transform lives. Whatever your starting point is in life, your education is so important because it enables you to achieve the life that you want. It gives you confidence to do that. It really is the key to unlocking and opening those doors.
"Where education hits me in the heart, where it really gets me, is in what it does for other people. To do a job that I am proud to do, and to see the difference it makes, that is where the job satisfaction is for me."
She has been the director of the training centre since 2018. In that time, much has been achieved. Nikki and her team were unrelenting in their mission to turn around a poor Ofsted rating into one that saw it judged 'good' overall . She was barely a year into the new role when the report came back to say there had been a 'relentless focus' on improving the quality of education apprentices receive.
"When the training centre didn't do well in 2017, it was crushing," says Nikki. "But I've seen it before with new organisations that are set up. It is hard to get apprenticeships off the marker because of the work that needs to be done.
"By 2018 I was the director and had to get my feet firmly on the floor. There was no time for blue sky thinking. We just had to get our heads down and get on with it. There was no time for licking our wounds or to feel sorry for ourselves. We worked really hard, focused on the priorities that would make the most difference and what we needed to do - putting our students at the heart of everything we were changing.
"I've always been relentless in everything I have done. The Ofsted inspection was no different. I put all my energy and passion into what I do; I feel a great sense of responsibility for ensuring that our students achieve and employers get what they need."
It is that attitude, and a pursuit of quality over quantity, that has seen the centre grow its offering to meet the needs of industry, with new apprenticeship pathways that include automation and controls, composites and nuclear. It is also part of the consortium behind a new South Yorkshire Institute of Technology (IoT) that will launch this year, investing £500,000 in new software and technology at the training centre.
"We have grown but stayed true to who we are - it's a decision we made early on to not try and do everything but to do the right thing and to move at the right pace. It's not about how big you get - it is about how good you get.
"We must balance the delivery of immediate needs for skilled people with thinking about future horizons. It is clear digitalisation, AI, sustainability, composites and nuclear manufacturing skills are going to be critical to enable manufacturing to innovate and be productive.
"Innovation and skilled workforce are different sides of the same coin; they are both essential to economic growth and you cannot have one without the other."
Article featured in the latest issue of the AMRC Journal.