Shivan's life-changing time as Apprentice of the Year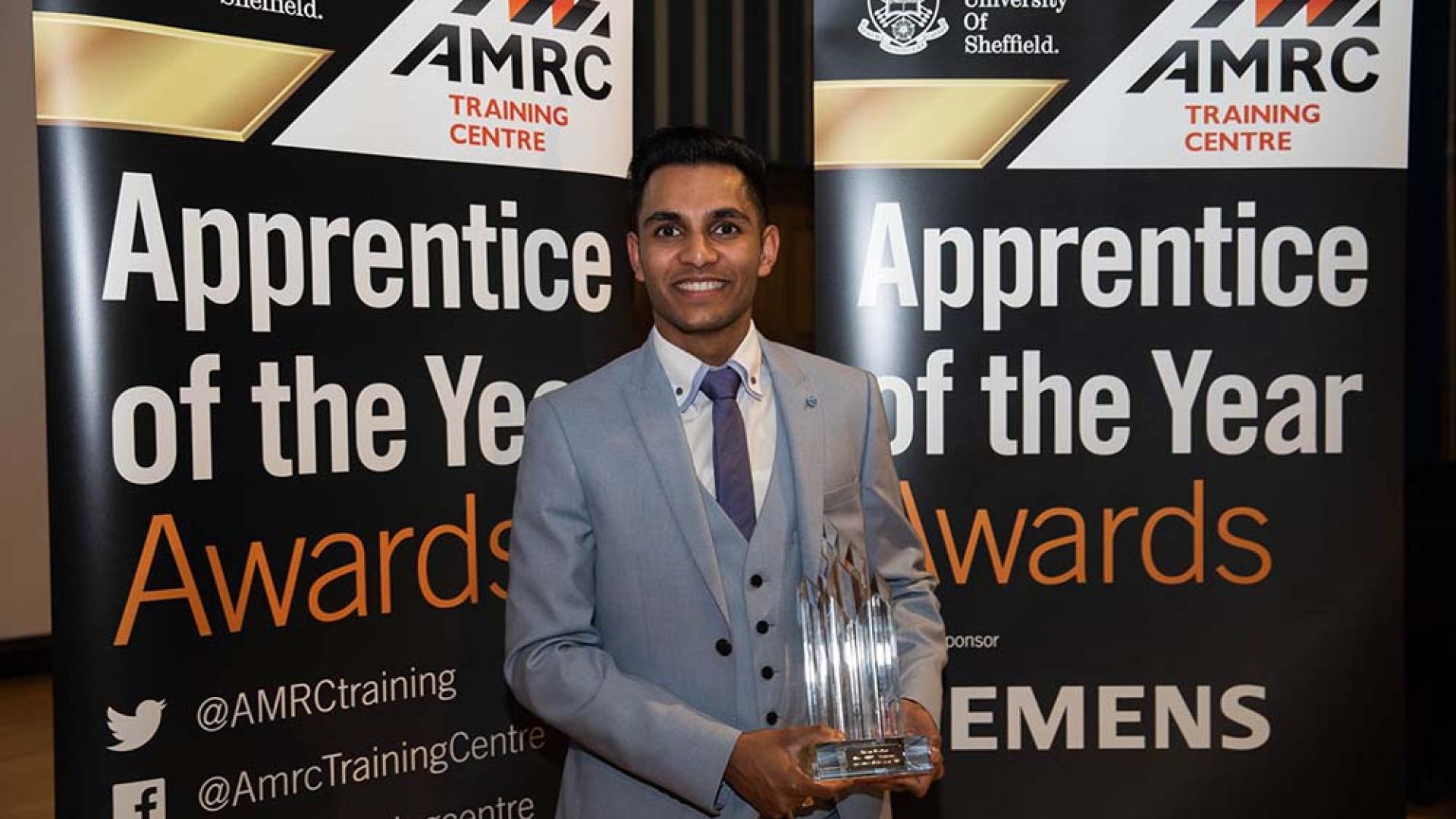 Shivan Morkar says his life has been turned on its head since being named the University of Sheffield AMRC Training Centre Apprentice of the Year in 2019.
The Bradford-born 22-year-old picked up the ceremony's top prize last year with judges highlighting his enthusiasm and passion for industry, the positive impact he's had on his workplace, and that he has become an inspiration for other apprentices and work colleagues around him.
Shivan said: "My life has changed massively in the last year. Winning the award has solidified my position at work, more doors have opened for me and managers want to develop me.
"I've grown not only as an engineer but a person as well and I'm so thankful for the opportunity given to me by the AMRC Training Centre."
It has been a busy time for Shivan who is studying for his degree apprenticeship whilst working at William Cook Rail in Leeds: "In June last year I was also named 'Engineering/Manufacturing Apprentice of the Year' at the Sheffield City Region Apprenticeship Awards, then at work I have been promoted from an Apprentice Manufacturing Engineer to a staff engineering role. It means I design fixtures and create numerical control (NC) programs for all the components that we machine in house."
Shivan's prize for becoming the AMRC Training Centre Apprentice of the Year was a trip, last summer, to Siemens' Industry 4.0 Smart Factory in Amberg and its Digital Industries headquarters in Nuremberg, accompanied by Siemens Industrial Chief Technology Officer Alan Norbury.
"My mind was blown," said Shivan. "The level of automation they have in their factories is incredible. Alan said that the Siemens software they use allows a computer to simulate how a machine would run and how it could do certain jobs. It means you can see the improvements to make before you have to spend the money.
"Any company working with the AMRC would have free access to the software as part of Siemens Tier One membership contributions. It was one of the things I suggested at work to see if we could implement it in some way and they were really up for the idea, so they're looking into it as part of William Cook Rail's ongoing multi-million pound investment programme in its Leeds site."
Alan added: "I started my career with Siemens as an apprentice 40+ years ago. I'm thrilled to now be in a position where I can share some of my experiences working in Industry and support others as they start on their career journey.
"I was absolutely delighted to host Shivan's visit to Germany. I was so impressed with his attitude to work, thirst for knowledge and self-development, and I hope his visit inspires him in his future career. Shivan's impressive developments to date will definitely stand him in great stead for the future and I am truly looking forward to following his progression in the coming years."
Nikki Jones, Director of the AMRC Training Centre, said: "Shivan is a worthy winner of the Apprentice of the Year award and it is fantastic to see him grasping the opportunity of going to Germany with both hands.
"The AMRC Training Centre provides the manufacturing and engineering industry with young people who have both the practical skills and academic qualifications businesses are crying out for. All our apprentices work hard for their companies and Shivan's success is a great example of how they can make a real difference to their workplace."
William Cook Rail designs, manufactures and overhauls safety-critical bogie components and coupler systems for rolling stock builders and operators all over the world, from London Underground to Australia.